Mall of America
Less than one mile from our Bloomington hotel is one of the most impressive shopping hubs in the entire country, aptly named, the
Mall of America
. Located where Interstate 494 and State Highway 77 intersect, the mall is the largest when it comes to total floor area and the 12th largest in the entire world. Opened in 1992, the mall is home to 520 shops, 50 restaurants and over 400 events every year, including fashion shows, celebrity appearances and live concerts. As if that wasn't enough, there are fun attractions to enjoy like Nickelodeon Universe®, the Crayola Experience and SEA LIFE® Minnesota Aquarium.
Interesting fact: the mall is on the original site of the Metropolitan Stadium where the Minnesota Vikings and the Minnesota Twins once played. When you go for a day of retail therapy, look for the stadium seat that is hanging in the exact location where it was located in the stadium. It's there to commemorate an unbelievable 520-foot homerun by MLB hall-of-famer Harmon Killbrew.
Nickelodeon Universe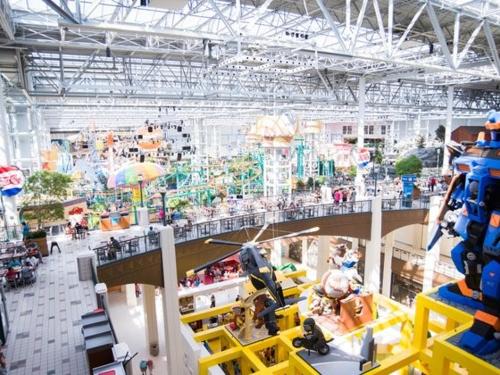 The country's largest shopping mall simply wouldn't be complete without the country's largest indoor theme park. Located in the center of the Mall of America,
Nickelodeon Universe®
has thrill rides that will get your adrenaline rushing like Brain Surge, Shredder's Mutant Masher and the SpongeBob SquarePants Rock Bottom Plunge. For more adventurous visitors, you can put your courage to the test at the Dutchman's Deck Adventure Course where you can walk the Ghostly Gangplank and take flight 55 feet above the park on the longest indoor zip line in North America.
Tickets are based on points, which you can purchase as Point Passes or All-Day Wristbands for unlimited rides. There are Twilight Savings on wristbands starting at 5 p.m., but not in combination with special events or other discounts. Additional ticket purchases are required to enjoy extra attractions such as the Dutchman's Deck Adventure Course, Moose Mountain Adventure and Rock of Ages Blacklight Minigolf.
SEA LIFE® Minnesota Aquarium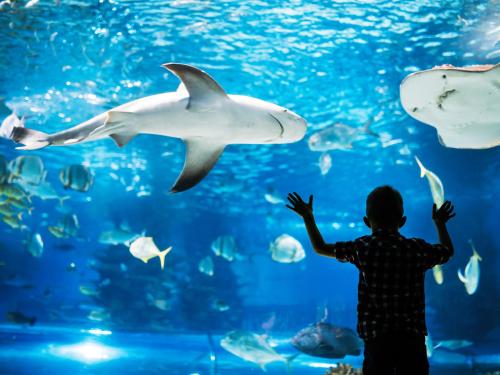 Experience life "under the sea" at the
SEA LIFE® Minnesota Aquarium
where you can get up close to thousands of creatures of the ocean, including jellyfish, seahorses, sea turtles and rays. For a truly extraordinary experience, book a one-hour snorkeling adventure to swim with tropical fish and sharks in the Rainbow Reef exhibit. Included with your swim are snorkel gear, a souvenir photo and general admission to the aquarium before and after your swim. Tickets to visit the aquarium are available at the mall entrance, but you can save up to $11 on tickets when you pre-purchase them online.
Crayola Experience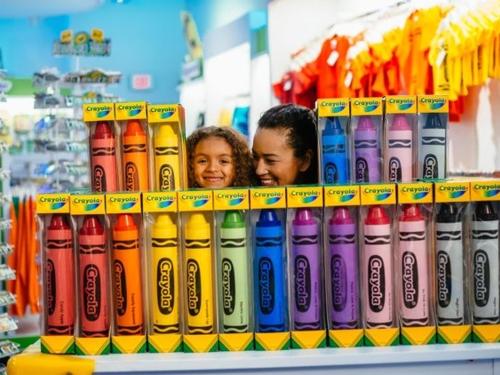 Life becomes a colorful experience at the
Crayola Experience
. The family attraction is in the southeast corner of the Mall of America and offers 25 hands-on exhibits from a Colossal Caddy holding thousands of crayons, to the Crayon Factory Show where you get to see firsthand how crayons are made. You can also name your own Crayola crayon and take it home in the traditional paper wrapping featuring your created name. It's recommended that you plan on spending between 3-4 hours at the facility, which is said to be bigger than an NFL football field. Online tickets are cheaper than purchasing them at the attraction, but the biggest savings are available when you buy annual passes, which include unlimited visits for 1 year from the date of purchase and 20% off merchandise, food and beverages.
FlyOver America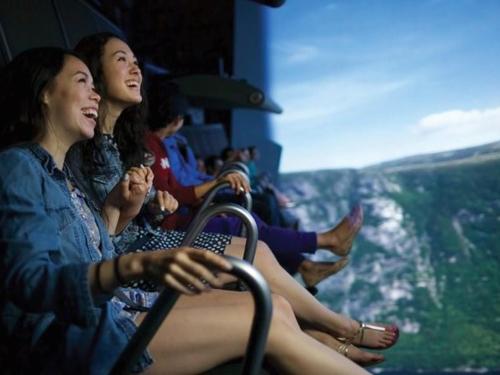 At
FlyOver America
you get to immerse yourself in a fly over experience of the United States. The virtual flight simulation includes moving seats, wind, mist and even scents. Open 7 days a week at the Mall of America, shows start every 15-20 minutes and last approximately 10 minutes long. You'll soar above some of the country's most inspiring landmarks as you sit in a chair with your feet dangling in front of a giant spherical screen. By the end of the immersive experience, you'll have flown more than 10,000 miles without ever leaving the mall. If you can't get enough of this unique experience, there's also a FlyOver Canada ride that takes you on a journey through Canada's valleys, mountains and cities. With these two attractions, "the sky's the limit" takes on a whole new meaning.